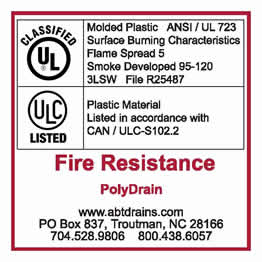 Most people do not consider fire issues when they are designing a drainage system.  However because of their open nature, trenches can aid in the spread of fire if design issues are not considered properly.  In addition, trenches can act as collection points for heavier-than-air vapors.  These two inherent features of trench drain can contribute to flame spread and smoke development in case of a fire.
Thus it is important to make the correct choice when selecting a trench drain system when there are so many options available.  ABT Inc's Polyester Polymer Concrete products carry the UL 723 Classified mark for Class A fire rating.  Demand a UL Classified product.
Any UL/ULC listings or classifications can be verified thru UL's online certification directory
See ABT Inc's at:
NFPA Codes involving Trench Drains
NFPA 30 – Code for Motor Fueling Dispensing Facilities and Repair Garages
NFPA 30A – Code for Motor Fueling Dispensing Facilities and Repair Garages
NFPA 409 – Standard on Aircraft Hangers
NFPA 415 – Standard on Airport Terminal Buildings, Fueling Ramp Drainage, and Loading Walkway
NFPA 502 – Standard for Road Tunnels, Bridges, and other Limited Access Highways
NFPA 820 –  Standard for Fire Protection in Wastewater Treatment and Collection Facilities
Important Note about Fire Resistance Ratings: Fire resistance ratings are a result of tests on a finished product and, or assembly.  Fire rating of individual components do no certify that the product has the same fire rating as the component.  Always look for the UL label on the finished product.