When selecting a trench drain for commercial drainage applications the proper material properties are critical to the life cycle of the product and life safety of a building's inhabitants.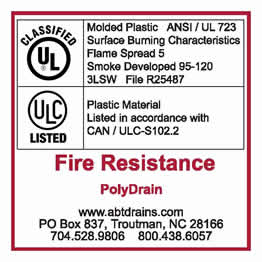 Standard PolyDrain channels are manufactured from PolyDyn®, an advanced formulation of selected quartz aggregates and inert mineral fillers bonded together in a high-grade polyester resin. This formulation is suitable for use in both exterior and interior commercial drainage applications and offers superior strength and durability and marked cost advantages over alternative materials.
When a higher level of chemical resistance is required, ABT offers PolyDrain in a special formulation called PolyChampion®, which has the same quartz and mineral fillers as the PolyDyn® formulation, but with a premium grade vinylester resin binder. This formulation will withstand a broader range of corrosive salts, fuels, acids and alkalis.
When a commercial drainage issue requires placing a trench drain system indoors they can often become the collection point for flammable liquids and heavier than air vapor and can contribute to the spread of fire. ABT's Polyester Polymer Concrete products carry the UL-723 Classified mark for Class A fire rating. Make sure that your commercial drainage solution meets NFPA fire codes and demand a UL Classified product.
---
Applications
Loading Docks
Vehicle Garages
Warehouse
Pools
Veterinary Clinics
Sidewalk & Walkway
Kitchens
Parking Lots (sheet flow)
Products
Critical Design Issues
Anchor Frames & Dynamic Loading